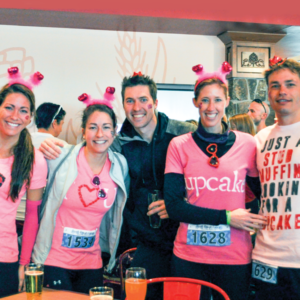 TEAM QUALIFICATIONS:
5 or more participants signed up to receive any team benefits
You must register  before February 9th
Teams cannot register at packet pickup or on race day
Individuals cannot be added to teams at packet pickup or on race day
INCENTIVES:

SO WHY SHOULD I JOIN A TEAM?

……………………….
All Team members save $ off the individual entry fee

Fastest team determined by adding the times of the top 3 finishers on each team. No Team awards – just the Glory!
Free Team Portrait photo taken at the event and emailed to Team Captain
Team of 8
Team Captain receives a $10 entry fee refund
Team of 12+
Team receives a box of Valentine's day Chocolates to share

Team of 16+
Team Captain receives $25 restaurant gift card
*The team entry fee discount applies only to the adult entry fee. Youth members can be added to a team but they do not receive an additional team discount as the youth entry fee is already lower.
At least 5 team members are required – Teams with fewer than 5 members are not valid teams. If a team fails to meet the team size before February 9th the team captain will be notified by e-mail. The team will be dissolved and each person who registered on that team will have to pay the additional $ for the individual rate to pickup their packet.